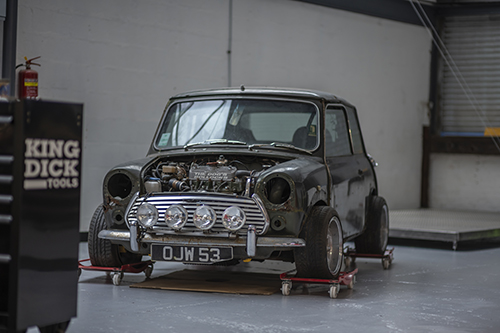 We love a classic mini, and the one we have in the shop is the dogs' bollocks, it even says it on the engine's rocker cover… it's a 1987 Mini Mayfair that has been re-badged a Kensington. It had super wide wheel spats, fat alloys a suped up engine, loads of chrome and green leather interior, with green deep pile carpets.
The Mini belongs to a friend of dads just down the road from the Speedshop, a lady in her 60s who is the OG girl racer. I remember seeing the car zooming around when I was at school, but she had sent in in for some body work and the garage disappeared along with her car. She never gave up on her pride and joy and eventually the police recovered it in a local scrap yard, so we offered to return the Mini to its former modified glory, but with a few extra little tweaks that Lucy and I have added.
I guess you could say, this is our 'Car SOS' project, which seems fitting that we pay homage to the long running series as their garage is only around the corner to us.