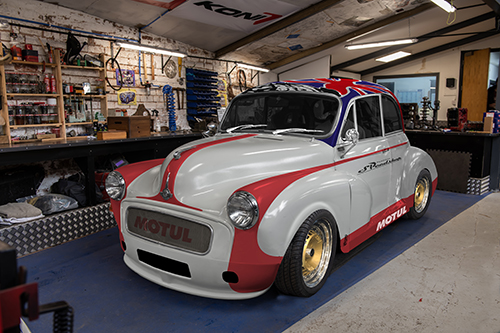 The Morris is my brother Harvey's first car and I think dad was really pleased with his choice as dads first car was also a Morris Minor or Moggy as we call it. Harvey needed a reliable commuter car as his trip to work is over 30 miles a day, which meant he wasn't using the Morris as a daily.
We took to car on as a project and working along side Harvey, who you'll meet later in the show, we are developing the Moggy into a street legal race car for Hill Climb events. The old 1098cc A series has about as much power as a food mixer, so that was our first consideration. The obvious choice would be a 1275cc A series, an easy swap and dad ran one in his with over a 100hp, but today as a Hill Climb car it's just not competitive, so we're going for a 2ltr Ford Duratec, an alloy engine that can easily be tuned to 300bhp and doesn't really weigh much different to the original engine.
We are building a fully independent rear suspension, inspired by the Hoyle system we are fitting to the MG, with much bigger wider wheels wrapped in Nankang AR-1 tyres. The entire car is dropping about 50mm, and the wider stance and custom body kit make it look awesome. The interior is pure race, a roll cage, two bucket seats, 4-point harnesses and new dash panel to house all the necessary instrumentation. Harvey will be campaigning the car in Hill Climb championships and the original Snowberry White paint is evolving into a grey and red Motul livery with a King Dick tools union jack on the roof. We can't wait for the cars (and Harvey's) first official race outing.