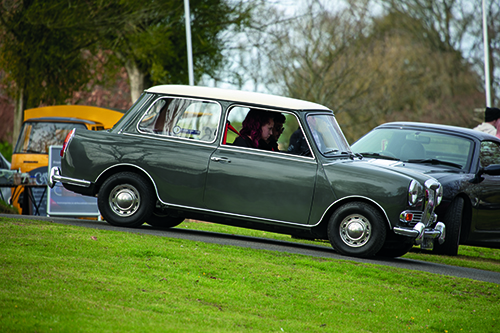 My dad Steve, who you'll often see lending a hand and some experienced wisdom in the Speedshop, used to race Mini's so I think I could say they were my automotive first love. But then I fell in love with the Ford Escort, the earlier the better… give a MK1 Escort over a Supercar any day of the week…
I was invited by the Classic Car Loan Scheme, which was set up to encourage young people into the world of classic car ownership, to join the program and drive one of their cars for a year. There are few conditions attached, one of which is taking the car out to shows etc, so it all seemed like a great fit with the show.
The car I chose from the scheme is a Riley Elf, which is basically an Austin Mini that the Coventry based Riley Car Company took, added a boot, some very posh walnut interior trims and called the Elf. I think it looks like a Mini with and Escort back end and I love it.
The Elf is my daily and was a great little car when I adopted her for a year, but I've had to make a few Speedshop tweaks, like a full fluid change to our sponsor Motul's classic range, some red (MG Metro) inertia real seat belts and a more efficient K&N air filter, which has already made her more drivable. My next modification will be to fit a set of disk brakes as the original drums work, but they don't exactly fill you with confidence.
Lucy Busby